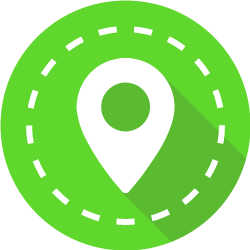 Expert HVAC Repair, Maintenance, and Installation in the Valley
With summertime temperatures often topping 100 degrees Fahrenheit and wintertime lows sometimes dipping into the 40s here in Arizona, it's important to have a fully functioning HVAC system that will keep you and your family in comfort regardless of the season. If you're looking for reliable and affordable AC and heating repair, maintenance, and installation in the greater Phoenix area, Team AIR-zona is the RIGHT team for your home comfort needs!
Although we are based in Queen Creek, our extensive service area also includes Tempe, Sun Lakes, Gilbert, Florence, San Tan Valley, Ahwatukee, Scottsdale, Mesa, Apache Junction, Chandler, Maricopa, Central Phoenix, and Tolleson. We're proud to be a 2022 recipient of the Bryant Medal of Excellence and our goal is to provide East Valley residents with the BEST customer service and top quality HVAC products at an affordable price.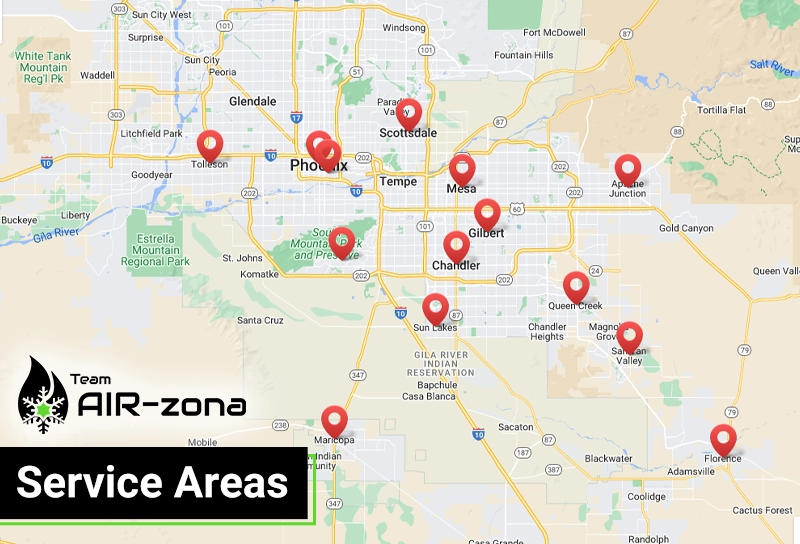 Experience Superior AC Service with Our Top-Rated HVAC Team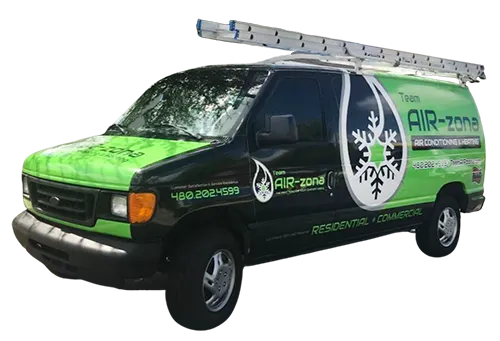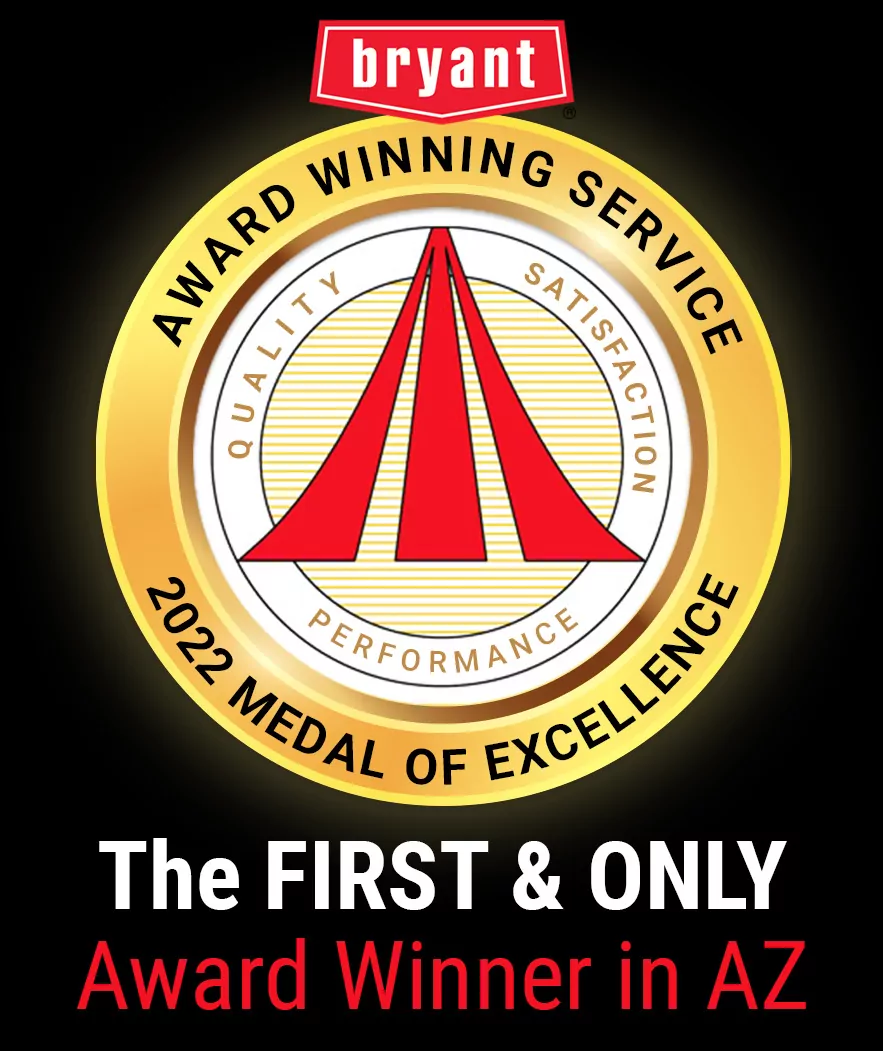 "Same day appointment, honest technician, and no unnecessary pressure sales. Very impressed and happy with our experience. Will definitely use [Team AIR-zona] again in the future."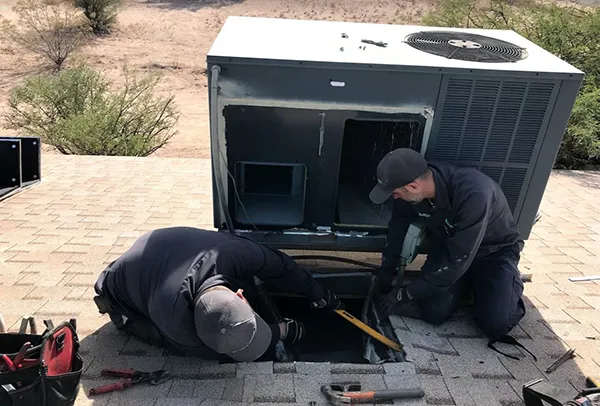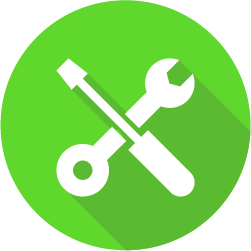 AC and Heating System Repair
Whether your AC is blowing warm air on the hottest summer day or your heating system is failing to keep you warm, HVAC repair is often needed at the most inopportune times. That's why the experts here at Team AIR-zona are committed to scheduling and completing repairs as efficiently as possible. Our NATE-certified technicians will be honest with you about exactly what's needed to get your system up and running and how much the repair will cost. Your comfort is our priority and we are just a phone call away!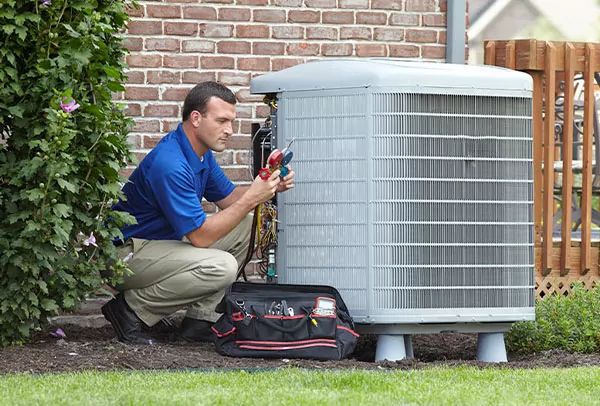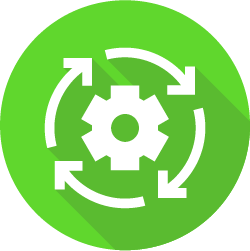 AC and Heating System Maintenance
Just like any other household appliance, your HVAC system requires routine maintenance to keep it running smoothly and efficiently. A well-maintained system will last longer, keep you more comfortable, and help you save money on your energy bill. When done correctly and in a timely manner, regular maintenance can even help prevent the need for some costly HVAC repairs.
Get the most affordable and convenient maintenance with our HVAC maintenance plan, the budget-friendly option that gives you peace of mind, additional savings and perks, and expert HVAC service.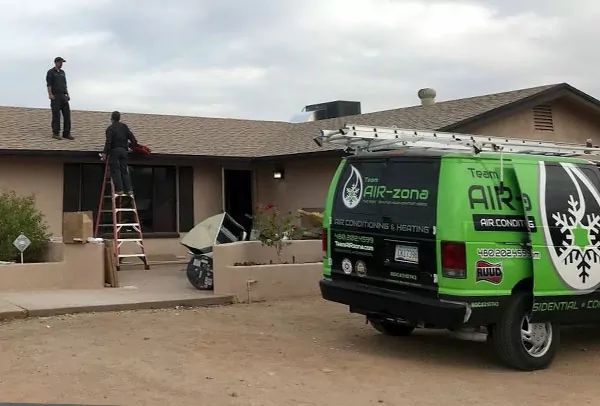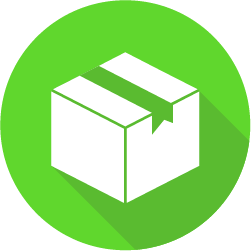 Installation of New AC and Heating Systems
Sometimes, the expense of repairing or maintaining your current system isn't as cost effective as purchasing a new air conditioning or heating unit. If you're not sure which way to go, let us know. Our expert HVAC technicians will walk you through important factors to consider when deciding to repair or replace your HVAC system.
When you're ready to buy a new heating or air conditioning system, we'll help you find the solution that's best for your budget and your household's needs. We'll even provide a FREE portable AC unit for your use while your new AC is being installed. Year-round home comfort has never been easier!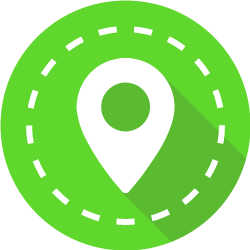 Do You Live In Our HVAC Service Area?
At Team AIR-zona, we have over two decades of experience in the HVAC industry and only hire NATE-certified technicians. That's why we're able to provide top quality, expert HVAC services throughout Arizona's East Valley. If you live in Queen Creek, Tempe, Sun Lakes, Gilbert, Florence, San Tan Valley, Ahwatukee, Scottsdale, Mesa, Apache Junction, Chandler, Maricopa, Central Phoenix, or Tolleson, you're in our service area!
Contact us today to schedule service or to learn more about our professional HVAC services.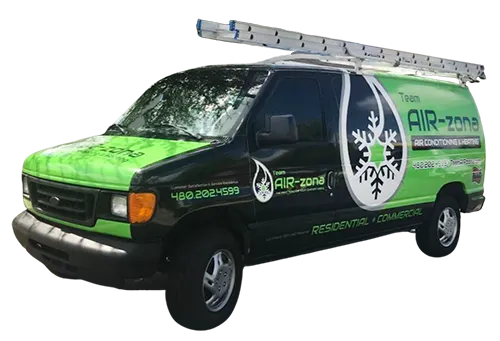 Call us now to learn about our specials. See how we can help you save money on new installations and preventative maintenance.